2017
I kept to the same routine at the start of the year, new oil and fluids in the spring. No need to change the filter yet since they're good for 3 years.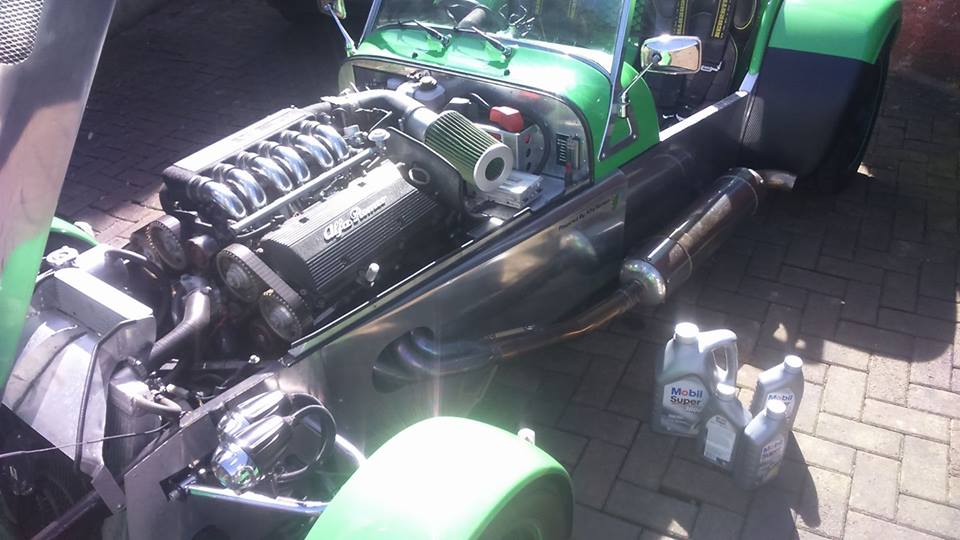 I also finally managed to trace my oil leak; it was one of the oil hose connections at the oil cooler seeping. I tightened the jubilee clip and went round all the others, and was a little shocked to find that most of them had loosened off somewhat. Nothing else was leaking but it's obviously best to do a yearly check of all jubilee clips. Most of mine are high quality stainless items so it's not just a case of cheap parts - worth knowing.
May - Cadwell Park
The first proper trip of the year was a 3 1/2 hour long drive over to Cadwell. Hot spring sun and an hour-long tailback on the M62 saw both me and the car getting hotter than was comfortable, with the fan just managing to hold the water temperature at 110 degrees C. But hold it did, and the journey was otherwise uneventful. I'm still surprised how comfortable (noise notwithstanding) the car is for long trips. I drove down in the afternoon, and stayed overnight in a B&B near the circuit.
Cadwell itself is a fantastic, if unforgiving, circuit. Constant technical corners and sharp elevation changes really suit cars like this, I imagine that trying to pass anyone in a race is incredibly hard though.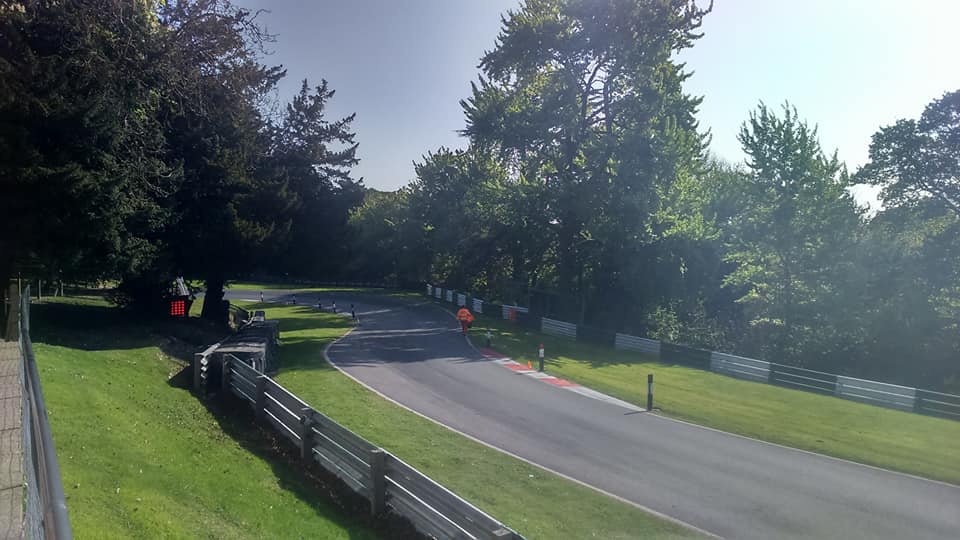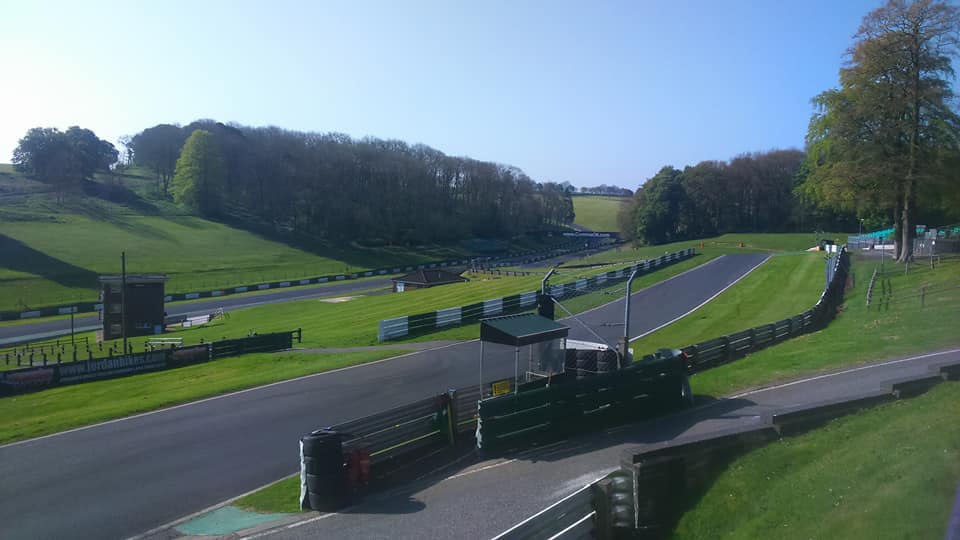 The day saw a total of 7 red flags, including two quite hard shunts, and meant that the morning session had a good hour of just waiting around. A place to be wary of. That said, I thoroughly enjoyed it and plan to go again at some point. The car itself performed flawlessly, and wasn't even too tiring on the drive home. I was a bit delayed at a service station by a very friendly group of Germans who were interested in the car. Part of owning a car like this is taking the time to speak to people about it, it rarely goes unnoticed!
July - Oulton Park
Aside from the usual blats out on the road, the next major event was Oulton. This one was a bit more of a torrid tale, all due to my own laziness.
I'd done a rough check a week earlier and all seemed well, aside from a slight "clack" noise from the engine bay occasionally. I'd spent some time looking for this but couldn't trace it, and it seemed to go away.
The night before, I was getting everything ready, when I noticed that the rear brake pads were very low; worn right away in fact. When I'd given it a look over before, I'd checked the front pads (which were fine), and assumed that the rears (which normally wear more slowly) would therefore also be fine. WRONG!
Thinking back, I'd been noticing that the rear wheels were getting very hot, and reckoned that the handbrake was dragging. I'd backed it off some time ago, but obviously not soon enough.
Anyway, this left me in a pickle. The pads were virtually down to the metal, no way they'd survive a trackday. But it was too late to cancel. So I tried to work out how much of it I could salvage.
A somewhat sleepless night resulted in a vague plan; I'd drive down to the circuit, register, then ring Demon Tweaks (only 25 miles from the circuit) and hope that they had some Ford Sierra pads in. Failing that, perhaps a local Ford garage might have some. At least if I was there, I might be able to sort something out.
I arrived at the circuit, did the sighting laps, then rang Demons. Luckily, they had a couple of sets in stock; so it was a 40 minute drive there to pick them up, the same back to the circuit, where I begged somebody to loan me a jack.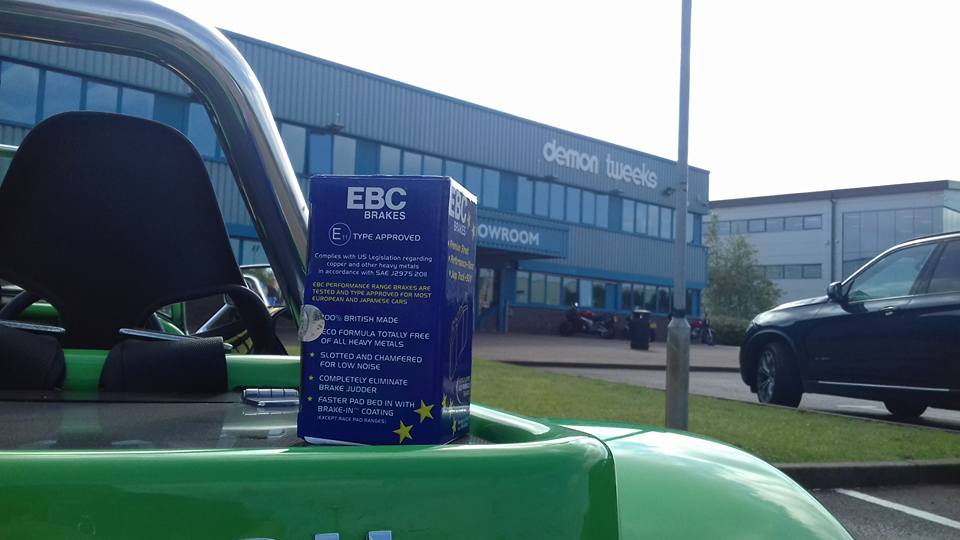 That bit was easy...trackdayers are friendly folk. Changing the pads was also easy enough, once I realised that you need to take the handbrake off in order to wind the callipers back in! D'oh. I used a pair of long-nose pliers as a wind back tool, which was fine.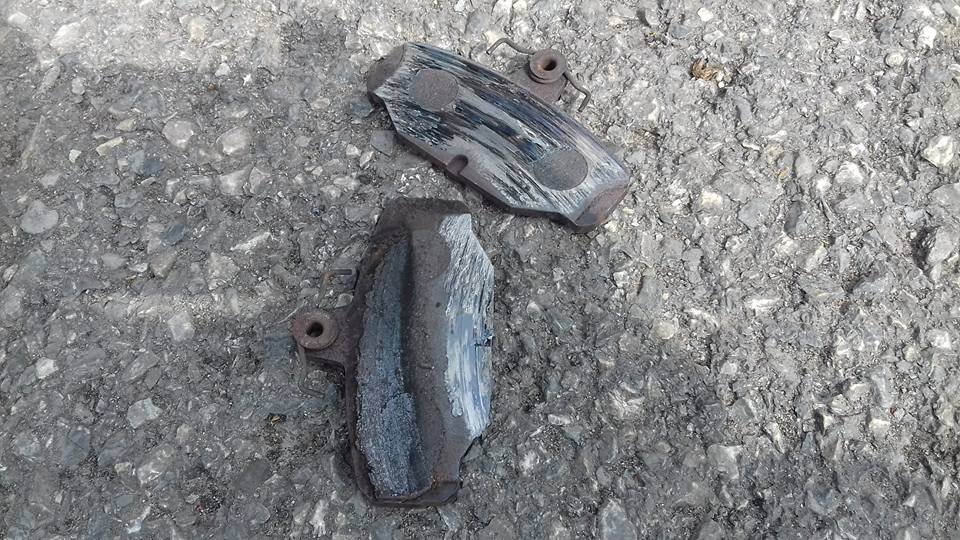 Somewhat hectic, but in the end only cost me 2 1/2 hours and I was on track before lunch. A lucky escape really, and a lesson learned. Check everything before a trackday.
This is the first track I took the car on, and the first I've returned to. I noticed a considerable improvement, my best lap was some 11s faster than last time at 1:58. My lines were better, particularly around druids which I finally felt to be getting the hang of, and my experience of, and confidence in the car are both greater. Great fun as always, aside from the drive home in rush hour. Probably as well to wait an hour at the circuit as to leave at 5.
I was also pleased to note that my noise tests are still holding steady at 100db as they have been since I put the Accoustafil in last year. Obviously good stuff.
August - First MOT!
Well, that came around quickly! It barely seems like yesterday when I was struggling with the IVA test, but 3 years have gone by. The local garage did the MOT for me, and I'm happy to say it passed without issue. The Q plate meaning emissions tests are no longer an issue, which was the big bugbear. They even let me have a good poke around underneath while it was on the ramp, just to check it over. Aside from a brake line clip popping off, there was nothing to report.
October - Boscombe Down Aviation Collection and Goodwood
I'd hoped to get 3 trackdays in this year, but thought I'd failed. I was aiming to go back to Croft, but a mixture of bad weather and days getting booked up meant that I missed my chance. Then in October, I was offered a place on a private trackday at Goodwood organised by a friend of mine. I'd always considered Goodwood out of bounds, largely because it's 300 miles away, but mostly because their trackdays tend to have 99db limits; however this time the limit was 105 so it was too good a chance to miss. Even though it meant a looooong journey in October, with no roof. I could stay with my mother, still an hour and a half away from the circuit, but rather closer. And she has a garage...
I had to pick my travel days to avoid rainy days, and I manged to get down there without getting soaked. Again the journey wasn't too bad, even the M6 at night wasn't too uncomfortable. I did have all the clothes on though.
Photoshoot
I had a few days down there, and managed to do something I'd wanted to ever since I'd finished the car. The Boscombe Down Aviation Collection is a museum based at Old Sarum Airfield. It has a collection of aircraft which were based at the Test Pilot's school at Boscombe (including a load of jet fighter cockpits which you can sit in, which is unique in my experience). Amongst the collection is a replica Be2b, a WW1-era biplane which was the first plane ever to land at the airfield. The replica was built by a team of 4 men, one of whom was my Dad. I hoped to get a picture of my car next to his plane, if I could arrange it with the museum staff.
So we bobbed over on Saturday and spoke to the Engineering Director, who couldn't have been more enthusiastic or helpful. I was expecting to arrange something for next year, with lots of advance notice, but within minutes we'd arranged that I could bring the car in the next morning, they'd open up the hanger and I could push it up next to the Be2b and do my own photoshoot. Perfect! The only downside was that the aircraft was a bit hemmed in given that they now have so many exhibits, but that's usually the way with museums.
So the next day, my ever-intrepid mother and I drove the Dax in on a chilly but sunny morning and I got snap-happy for an hour or so. I think that all of the museum staff came over for a look and a chat, so it was all very pleasant. I wish I was a better photographer really, but I got a few good shots, and it was good to fulfil a dream.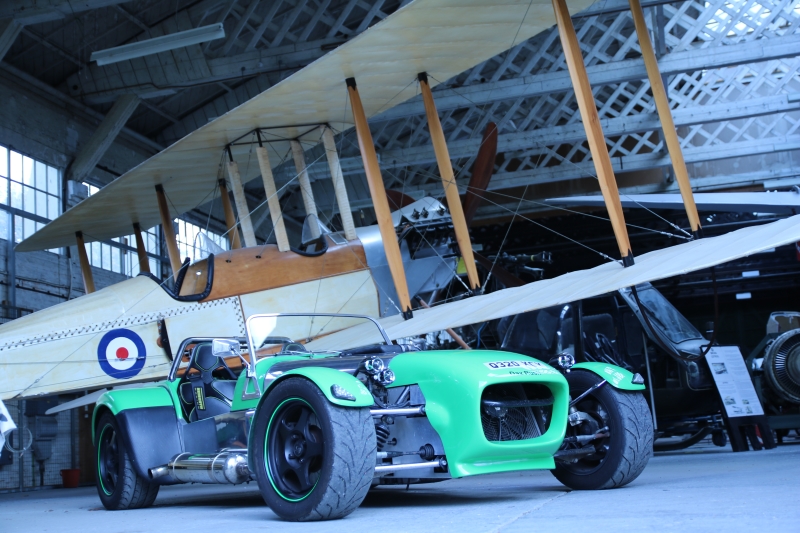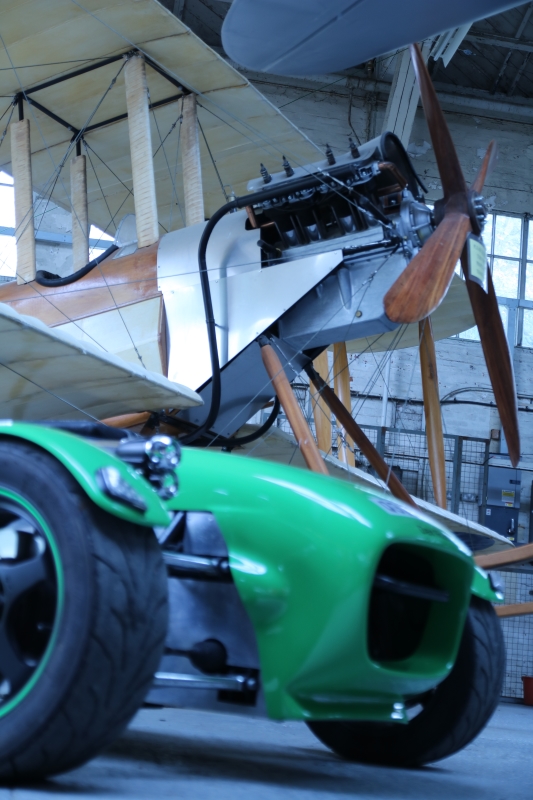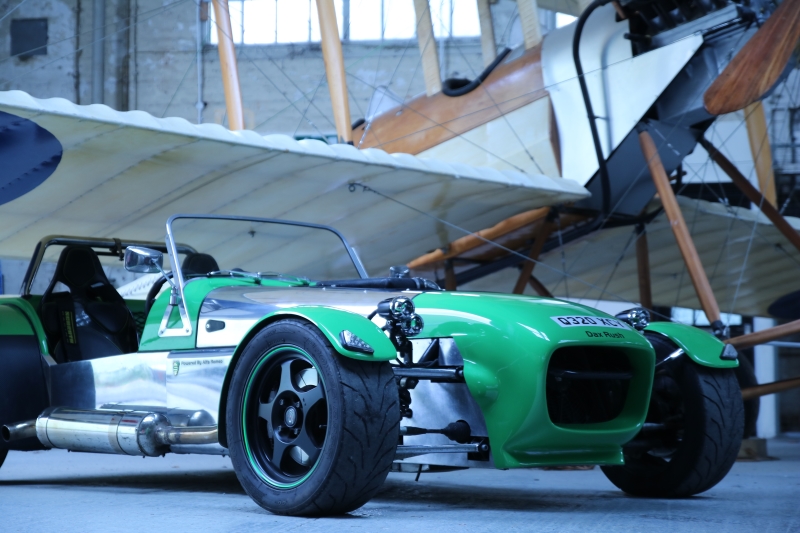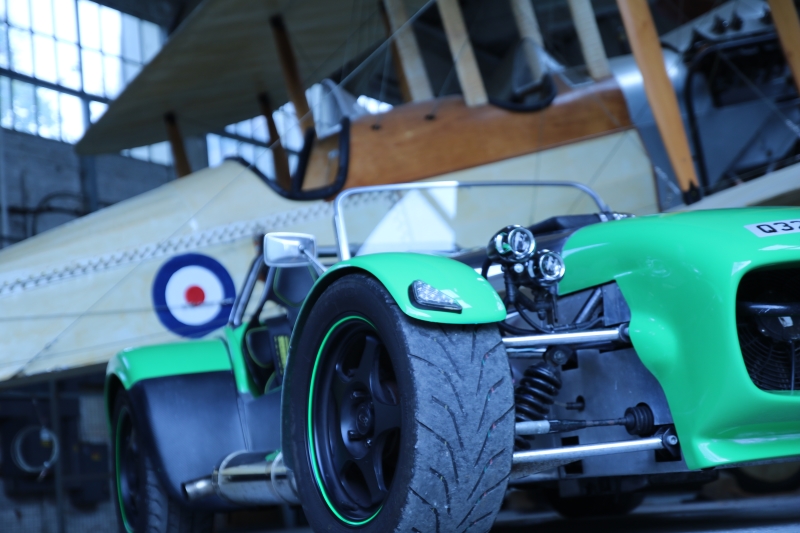 Goodwood
The next day was Goodwood. Again my intrepid mother joined me in the car for the hour and a half trip past Southampton during the morning rush hour. A bit of a chore but it all seemed worth it as we arrived at the iconic entrance.
I've been here a few times as a spectator, a couple of those at the Revival, and it felt pretty special to drive into the paddock where on my last visit, there were dozens of classic Cobras and Ferraris and 60s Grand Prix cars.
From watching videos of laps online, I thought the track might be a bit dull; very fast and swoopy. I was very wrong. It is very fast, mostly with no runout. But the corners are much more interesting than I was expecting, with lots of tricky camber and bumps. I had a few sessions in and was just starting to find my way around (a bit too enthusiastically it seems, as I kept tripping the trackside noise sensors), when the dreaded rain came in. Damn!
It drizzled on and off for a time, we'd go out, very gingerly, then it would rain some more. This went on until lunch, when it rained more heavily, then stopped. It was time to get out there and dry it out as much as possible.
This was the first time I'd driven the car in the wet with anything other than extreme caution - and even then, it's bitten me a couple of times (though I've always got it back). But by working up to it gently, I could start to find where the grip was. Still had a couple of small scares, particularly on the very fast Fordwater right hander where it all turned to understeer from there most of the way down to "no name" at over a ton. There were a couple of interesting "wheelspinning in 5th" moments, which were non-events although a bit unexpected. And the braking zone down into Lavant was highly trecherous, nearly having me off a couple of times. Whereas the double-apex, off-camber Lavant corner itself was highly slippery but, due to the lower speed and large run off, felt like a place to have fun.
It wasn't the lack of grip which was a problem, but the variability of it. It was a lot of fun, but on balance I'd have preferred it dry. Still, a fantastic day for all that.
As we came in from the last couple of sessions, I'd noticed the "clack" noise happening again. I couldn't really tell but it seemed to be maybe coming from the waterpump pulley, which was looking to have a bit of a wobble. I wasn't very happy about it, but there wasn't anything I could do, either stop, or carry on and hope. Well I wasn't about to miss out on the last few laps! But as I started it up ready to go home, my fears were realised as there was a nice plume of steam. I opened the bonnet to see coolant pouring out of the waterpump, and to find that the pulley could be wobbled around by hand. The bearing had gone.
Now this sucked, badly. After all, it's only done 7,000 miles or so. However, it could have gone on the motorway, which may well have resulted in a shredded belt which itself could have gone into the timing gear which wouldn't bear thinking about. Luckily I was in a race paddock, surrounded by friends with trailers. So the car ended up being trailered back, with me driving the owner's Westfield 11 back home.
Getting Home
The next day, I called the AA, who organised a relay of trucks to take the Dax back home, and a hire car for me. Although I had to go through all the "we'll come out and see if we can fix it" hoops first, they were very helpful.
The Dax arrived back home the day after I did, in the evening after being sat on the back of a tow truck during a day of biblical rain. The poor thing smelt like a pond and had twice as much water in. I had to push the MG out and get it under a cover so I could put the Dax in the garage and get it sorted. Not for the first time, I had to bail the cockpit out with a plastic tub, strip out all the carpets, remove all the tools from the boot and lay them out to dry, then get a fan heater on it to dry things out. Even so, some the chassis rails under the carpet have rusted, the powder coat has bubbled and come off, so I've had to strip back, prime and repaint. Nothing major at this point, only surface damage, but definitely something to be nipped in the bud.
Water Pump & Timing Belt change
Soooo...to change the waterpump, the timing belt has to come off as well. In my mind, I'd scheduled a belt change for next year, which would be 4 years - opinions vary about doing it between 3 and 5 years. So doing it now is a bit earlier than planned, but not the end of the world.
A problem I'd been thinking about since before I'd got the car on the road was how to hold the camshafts still while taking the belt off. On the production car, you take off the rocker covers, remove one bearing cap from each camshaft, and bolt in a special cap which has a machined cutout that holds one of the camshaft lobes in place. All well and good, but they don't make them for my aftermarket camshaft. I've heard that you can lock things down by putting a piece of paper under the bearing cap, but that sounds a bit risky to me. A further problem is that the last time I looked for rocker cover gaskets, it was only the main dealer that could get them, on special order, for over 60 quid each! And given the faff with sealing them, frankly I'd really rather leave well alone.
After considering a few options, I thought I'd take advantage of the fact that my vernier pulleys have ready-made bolt holes in. By making a couple of metal brackets which bolt to neighbouring pulleys, I could hold everything still and slip the belt off the front. A few hours cutting and welding some 4mm x 20mm bar and I had a pair ready to go: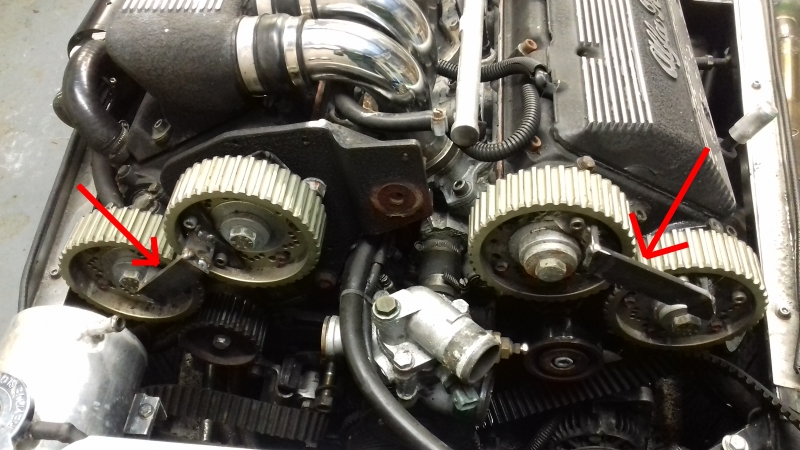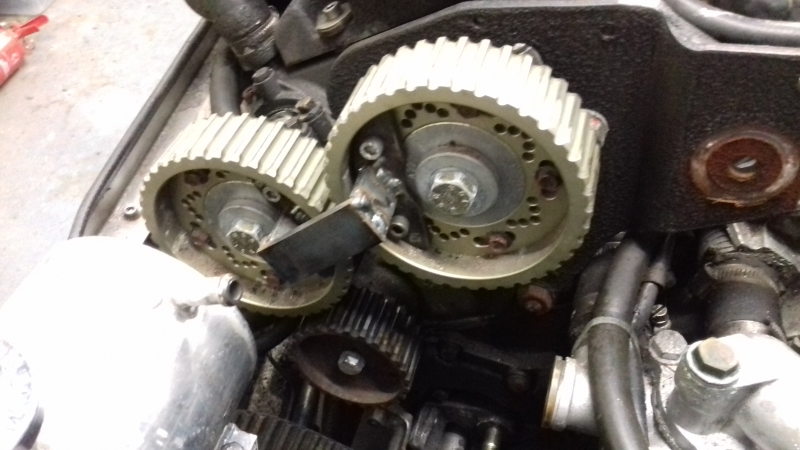 Slightly nervous when it came to removing the belt, but everything held still, so happy days. Much easier than taking all the rocker covers off and refitting, even with the fabrication time. I also marked everything up with paint - on the crankshaft pulley and the cam pulleys so that I knew where everthing should be.
The waterpump came off easily then, and was sent away for new bearings and seals. The timing belt tensioner bearing was also looking none too happy, with visible play in it, so I replaced that. Not too impressed after only 7000 miles or so, not sure what's gone on there. The idlers were fine so I elected to keep them; after all on a road car the belt change interval was 5 years/60,000 miles so they really should still be fine. The tensioner bearings are getting a bit hard to find (and expensive! Over a hundred pounds each!) so I've bought a couple. I might have to start building myself a supply of spares. The tensioner itself still seems ok, I've found that since it was used in the Ferrari 360 they can still be bought, albeit for around 500 quid.
Putting it all back together wasn't too hard. The timing belt was still a bit faffy, the driver's exhaust pulley still managed to be a tooth out on the first attempt, even with all my clamping technology. It's because of where the tensioner is, as you tension the belt it turns that pulley anticlockwise about a half a tooth, so you have to allow for that. Good job I'd marked it all so I could see what had happened. As for tensioning it, as before I didn't bother with the special weighted tool, just used a big lever on the eccentric pulley and keep adjusting it until it's right. I honestly don't know what they were thinking of with that, it seems far more complicated than it needs to be.
A very quick run to get it up to temperature in the 4 degrees of a november afternoon, confirmed that there were no leaks, and it was time to put it to bed for the winter.